The Latvian built OSCar eO has become the first range-extended electric-drive vehicle to complete the Dakar rally, an 8400 km long gruelling challenge through Argentina, Chile and Peru. The two week rally is arguably the toughest motorsport event in the world with less than half of the starters making it to the finish podium in Lima. By being among them, OSCar eO demonstrated previously unseen capabilities and durability of electric drive technologies.
The Latvian company OSC built the world's first electric-drive 4×4 off-road rally car in just 9 months leading up to the rally. It was based on the company's well established OSCar contender with the new eO brand name denoting the revolutionary electric drivetrain.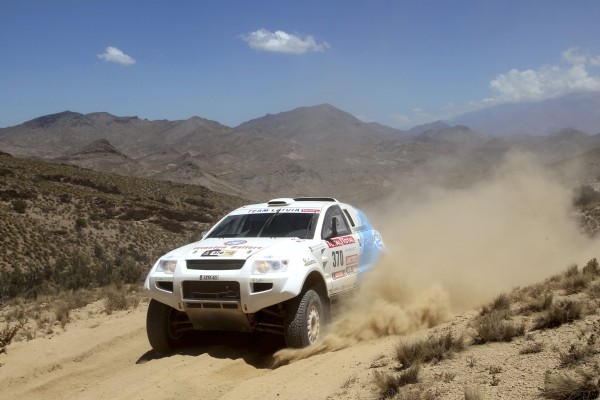 A series hybrid configuration was chosen as the most appropriate for the rally. A single 235 kW / 800 Nm permanent magnet electric motor was coupled directly to a 6-speed transmission which produced enough torque to negotiate the huge sand dunes as well as allowed a satisfactory maximum speed of 120 km/h on off-road terrain. A 60 kW range extender was in constant operation during the rally to maintain the charge level of the 52 kWh Li-ion battery pack from Winston Battery. Range extender's petrol tank was sized at 240 litres, giving the overall autonomy of up to 1000 km. The team recorded 50% reduction in fuel consumption relative to the conventionally powered rally-raid cars. A significant contributor to this economy was the regenerative braking function of the electric motor, operated by a dedicated hand-lever in the cockpit.
The eO team was thrilled to have completed the rally with no major electrical problems, despite the extensive and harsh loads and the ambient temperatures often in excess of +40C. The well-prepared and robust technologies allowed the crew to focus on the driving duties. Reaching the finish of each leg was indeed no mean feat as even the leading drivers noted that the organizers had laid out an exceptionally difficult route this year.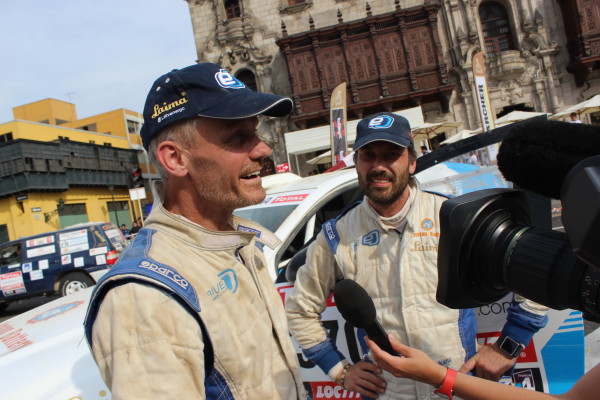 Finishing the last stage of the rally Māris Saukāns, the project initiator and OSCar eO pilot, said: "This is a great achievement for the whole team and is likely to have implications of a global scale. Motorsport has once again successfully demonstrated new applications of alternative energies and has identified new directions for development."
Andris Dambis, the technical director and OSCar eO co-driver, agreed: "This is a new highlight in my motorsport engineering career. I am excited to be leading such a rapid development of the future technologies."
The brand name Drive eO has earned its recognition during the Dakar rally and further public appearances are planned for the near future. The OSCar eO vehicle will showcase its technologies at motorsport, trade and public events. The company is also currently completing its first road-going electric vehicle conversions as part of a larger programme to develop and market electric drive solutions.
Photos from the race: flickr.com/photos/driveeo